The Team
Surrey Gynaecology is run by Kevin and Elizabeth Gangar of Weybridge, Surrey.
Mr Kevin Gangar – Senior Consultant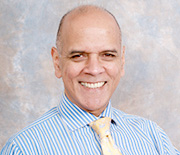 Qualifications
MA MB BChir Cambridge
FRCS (Fellow of Royal College of Surgeons)
FRCOG (Fellow of Royal College of Obstetricians & Gynaecologists)
LLB (Hons) Bachelor of Laws
Education
Kevin qualified as a Doctor at the University of Cambridge where his interest in Reproductive Physiology was inspired by his teacher Professor Robert Edwards who went on to win the Nobel prize for medicine for his pioneering work in in vitro fertilisation.
My early post graduate training was undertaken at Addenbrookes Hospital in Cambridge where I met Elizabeth. I am a Fellow of the Royal College of Surgeons and Fellow of the Royal College of Obstetricians & Gynaecologists.
My Specialist Training was undertaken in London at The Hammersmith Hospital with Lord Robert Winston. I went on to become Registrar at Kings College Hospital and then Research Fellow in Menopause Studies.
I was a Clinical Registrar and Research Fellow in the Menopause Clinic at Kings College Hospital London in London where I published extensively on the subject of the menopause and HRT. Following this I went on to be Lecturer and then acting Senior Lecture at Imperial College School of Medicine (St Mary's Hospital, London).
Mrs Elizabeth Gangar – SRN
Elizabeth Gangar qualified at Addenbrookes Hospital Cambridge as a general nurse and is also qualified midwife. She was previously Gynaecology Nursing Sister at Kings College Hospital and subsequently Queen Charlotte's Hospital in London.
She has also published the definitive textbook on Gynaecological nursing.
In addition to this Practice, Elizabeth does sessional work at the Family Planning Clinic at Weybridge Hospital.
We have been married for 26 years and have 2 children, George 25 and Rosie 23.
The Practice
The emphasis is very much one of delivering a personal and local service for the needs and concerns of the individual woman. All aspects of general Gynaecology are covered and Tertiary links to subspecialist centres in London Teaching Hospitals are available when required, for example cancer treatment, IVF et cetera.
Every effort is made to individualise the patient's treatment to her own needs within the context of her lifestyle, job, family commitments etc. All available treatment options are discussed with the patient who is at the centre of decision-making.
Investigations, tests and surgery are only undertaken when these are appropriate and necessary. Every effort is made to minimise inconvenience to the patient. Where it is appropriate, procedures are done at the same visit and under local anaesthetic thereby minimising inconvenience and time off work etc…
Appointments are available at a number of venues, Monday to Saturday to accommodate busy women with families and jobs. It is almost always possible to be seen at short notice or at least have an initial telephone consultation.
Patient Feedback
Dear Kevin and Liz,
I just wanted to say a personal thank you to you both for the care I have received at both Cobham and Windsor over the past 3 months. Nothing has ever seemed like too much trouble and the appointments have been in quick succession. Just one-week post-op and I am feeling the benefit of this operation, it's amazing.
Thank you so much.
Dear Doctor Gangar,
Had a beautiful baby boy in May.
Thank you to you and your lovely wife for everything.
Dear Mr & Mrs Gangar,
I simply cannot thank you enough for the attention and support you have given Lucy. It is undoubtedly a most difficult time for us and without your expertise and incredible kindness (beyond the call of duty) I dread to think where we would be! Our very best wishes and enormous thanks.
I just wanted to thank you both for the exceptional care you have given me over the last few weeks. To be in the depths of despair (due to hormones) and be able to call Liz – I can't tell you how much that meant to me. You have been wonderful.